Ever get in a stitching funk and just don't pick up your needle for a week or so? I'm so there! But I am stitching this weekend if it kills me! LOL Gotta do a biscornu for an Exchange, so that's great motivation to get back in the swing.
In the meantime, I don't think I shared my "Peace" ornament that I stitched the end of last year. It's the Rosewood Manor design from the 2008 JCS Ornament Issue. I love the original colors they used, but I wanted to make mine traditional red & green.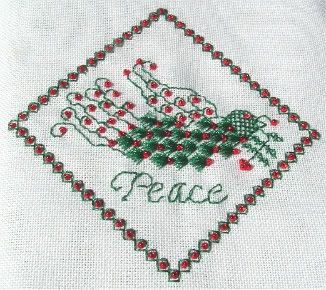 I used one strand of green DMC and one strand of green metallic, so it really sparkles. Not sure how I'll finish it, but I really like how it turned out.
Have a great day, and happy stitching!