What a great week it's been to stitch. The rain has made me feel like hibernating with my needle and thread and never-ending forensic shows! lol I've gotten a lot done on Poinsettias and Pine. It's a lot of fun to stitch and so far I've managed to avoid any frogging (knock wood). Amazing what you can do when you take your time and enjoy each "x." :)
I wanted to show off my "Salem Sisters" by Plum Street Samplers. Can you find 13 Stars and a Witch's Face in the design?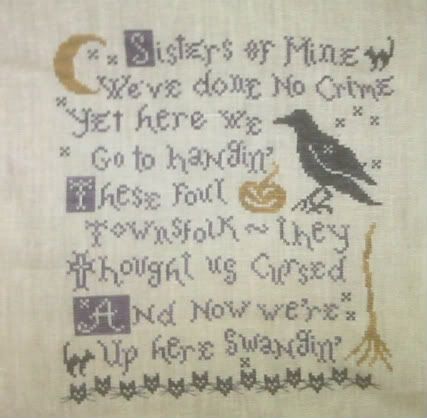 It's stitched on 32ct mystery fabric with WDW Mascara, Mulberry, and Tiger's Eye. You can't really see the purple for the lettering in the picture, but it's very pretty. This one was a joy to stitch, too, and my first project after the long vacation I took from stitching.
Thanks for visiting, and have a very stitchy weekend everyone! :)