IT'S DONE! IT'S DONE!
After 2 1/2 YEARS of stitching, my Houses of Hawk Run Hollow is FINISHED! Happy Dancin'!!!
This is the last square (I worked backwards) that I just finished last night. I moved A. Bailey's name down because I wanted her on there somewhere, and put my name at the top. I love how the two lines rhyme...
(Click to see it bigger)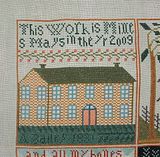 I haven't washed and pressed it yet. Just too excited to post! But here she is, my pride and joy...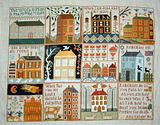 It's stitched two over two on Vintage Country Grain Belfast with DMC. It measures a whopping 23" wide by 17 1/2" tall.
This WIP has seen lots of happy days, sad days, and has been my therapy on days that just weren't so nice. I've enjoyed every single stitch, and hopefully it will be something that my children will cherish once I'm "dead and in my grave." (I know, it's morbid, but I love it! LOL) I'll post it again after it's framed.
Thanks for sharing my happy dance today! :)