I found the neatest Printer's Tray at an antique shop here in town. I just fell in love with the ones finished on this
Blog
and had to have one!
Click to see it bigger...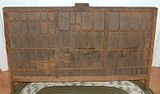 I like the way this one is finished, but I think I'd like my alphabet done in different fonts and scattered throughout the piece. I'm also planning to hide numbers 0-9 somewhere, too. Oh, the possibilities!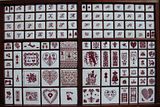 Thanks for visiting, and happy stitching!