I've already stitched two sets of the Blue Ribbon Designs "Christmas Sentiments: Volume 1." The first set I used to pay for finishing of the other set which I will use for gifts this Christmas. The set I'm working on now is MINE! Here is the first one finished and ready to go to Miss Lola for her to work her magic...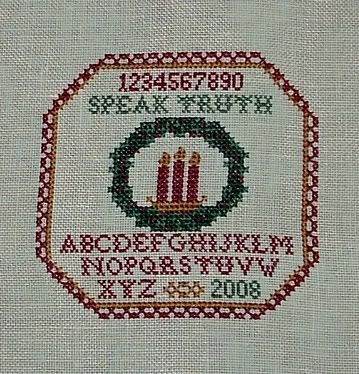 The letters and numbers are all over one, and the design and border are over two. I'm using Vintage Grain Belfast which I really LOVE. I enjoy stitching these and plan to do other sets as well. Especially the Valentine ones!
I worked on House #10 last night and got a lot done on the bottom section. The boys were gone, Miss M and her Dad went to the pool, so I enjoyed some quiet time with my stitching and forensics shows. If it had been raining it would have been heaven on earth. LOL
I'm working half a day on Friday and I guess we'll spend the evening at the pool. I hope to find some sparklers for Maddy. I miss the big fireworks, but the traffic is just too insane to even attempt to try it. It'll be nice hanging out, though, and just relaxing for the holiday.