I wanted to share the ribbon Diana and I found at the Williamsburg Pottery last weekend. You can't see it very well, but the red on the left turns gold when you move it. So elegant! And the red on the right turns blue, so it's perfect for the 4th of July. I'm a big fan of Christmas plaid, so the one in the middle is just perfect. But the neatest spool is the one on top! It looks like aida and I'm going to stitch on it!
Click to see them bigger...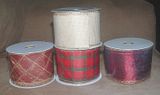 I brought Two of Six with me this morning to my mammogram appointment thinking I could make a little more progress while I waited. I went to adjust the Q-Snap, caught my needle underneath and broke it! Isn't that great? So I was forced to play a game on my cell phone. It was either that or read an old magazine about Hannah Montana. Choices, choices...