Vee framed my "Flying 101" and I just got it back yesterday. Isn't it adorable? I LOVE the purple frame!
(Click to see it bigger)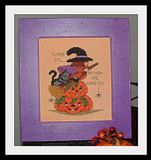 I finally got the frogging done on Six of Six and worked on it for a bit last night. I sure wish I had a smaller Q-Snap because my carpal tunnel really hurts when I work in hand. I know I have a hoop "somewhere." LOL
Happy stitching, and have a great day!