Jorja finished her square on my TS Neighborhood RR and I just love it! She couldn't have chosen a better design. I absolutely adore the porch and the chimneys. I can't wait to see it in person!
This is where I am on House #11. I've put it away to stitch on Eva's RR for now, but I think I can manage to have it done by the end of the month. I love the orange, and the way the gold tones it down. Click to see it bigger...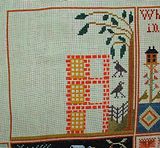 Have a wonderful Saturday, everyone, and HAPPY STITCHING!