I've got some motivating to do. After work, Lynne and I are meeting for dinner, then going back to her place for some stitching. She hasn't picked up a needle since the last time we stitched together, so she needs some inspiration. Or a swift kick in the rear! Either way, she'll stitch tonight...guaranteed!
Last night I worked on my TS Neighborhood Round Robin. I got the tree finished for the middle section. Underneath the tree I'll stitch a gal in an apron, a rooster, and a squirrel. Then I'll block off where I'd like the other girls to stitch their houses.
I think after I finish my RR, I'm going to start Three of Six. I really want to get those done and get them to Lola to finish before Christmas.
I did find another WIP that has turned into a UFO. This is Drawn Thread's "Spot of Spring" and "Spot of Summer."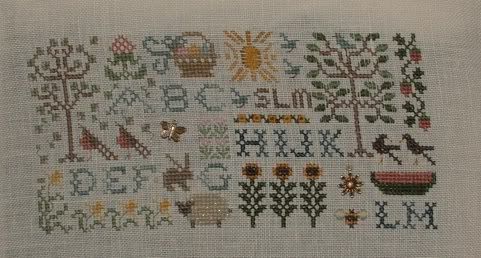 I need to find a good conversion from the Weeks that the chart calls for to DMC so I can get Autumn and Winter stitched.
Thanks for visiting today, and happy stitching!