I'm very excited that the girls at
Silkweaver Fabrics
have brought back the standard fabrics choice in their Fabric of the Month. I really missed getting that sweet package of surprise linen in the mail each month. There aren't as many choices as there used to be in size and count, but $30 for two fat quarters of Belfast including shipping isn't bad at all!
My house in Missy's Neighborhood now has a red door! I'm hoping to get some more done tonight after I "frog" out a piece of the foundation that's one stitch off. *rolls eyes*
This is another model I did for Vee called "Orts." She also did the frame, which is just perfect for it. I have it hanging above my stitching space...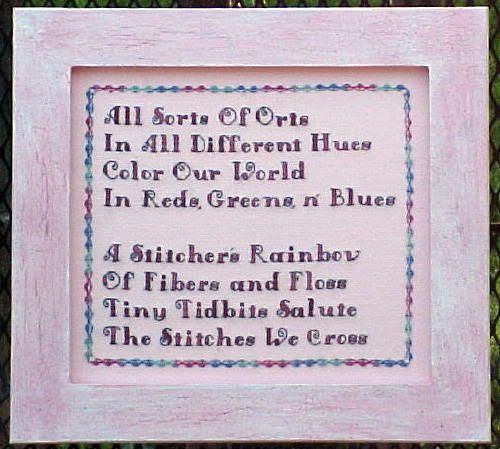 It's hard to tell from the photo, but the border has the prettiest beads which are a combination of all the colors in the design. Very cool!